News
We are shortlisted for Stage 2 of RIBA windows, looking at the shop displays of Liberty's!
We worked on a competition entry with Aberrant Architecture for the Clore Learning Centre at the RIBA. We proposed a 'stage' that can be programmed with a variety of 'performances' - activities which support architectural learning and stimulate critical thinking at all ages and stages of experience.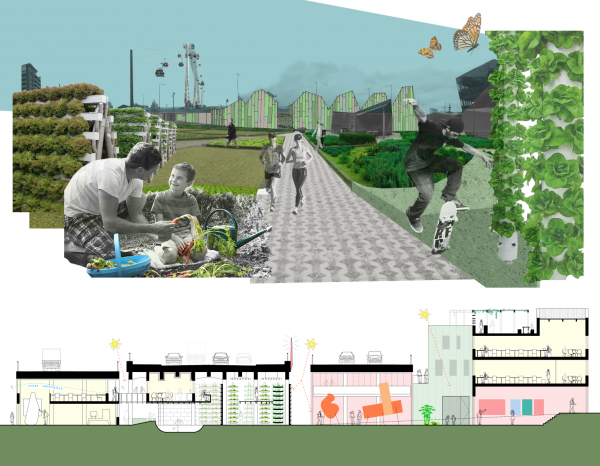 We're thrilled to have won from 52 entries and be part of such an exciting regeneration project at Silvertown! What a great brief and site and opportunity for the Royal Docks.
Great to also continue and elaborate on our research in the area that we've done as part of our 3rd yr teaching unit at Central Saint Martins this year.
Can't wait to get stuck in and started!

Have a peek here to see what we are up to! 
We ran an interactive workshop with 17 year olds for the attRAct session at the Royal Academy of Arts, with treasure hunt, model-making and collaging…

Our team (YOU&ME, 3SPACE, GREENLAB & Mott Macdonald) been shortlisted from 53 entries for the GLA and London Festival of Architecture to design creative workspaces under the disused flyover space in Silvertown, Royal Docks in East London.  
Our proposal is a test bed for how creative workspaces can add social and commercial value and animate public space, with ecology and growing at its core.
See Architects Journal for article of all shortlisted entries here
All 6 shortlisted entries will be exhibited at the Siemens Crystal 16th-28th June (more details here) 
Scaffolding comes down this week on Thornton Heath high level historic restoration works and reveals bubblegum colours!
All YOU&ME High Street works (including 30 shopfronts, 5 flank wall artworks and building frontage restoration) are scheduled for completion in Autumn 2017 - watch this space! 
See also project page here
A very successful teacher training session organised by V&A East and YOU&ME! Some great design ideas!
We are delighted to be working on a new innovation and creativite hub supporting local start-ups in Beddington. The project will be delivered in collaboration with Sutton Council and the GLA.
Come along & feedback on the first public consulation event 2.30-6.30 on 14/02/2017 at Beddington Village Hall. More details here
Excited to be working with makers Aldworth James & Bond on the historic restoration of 28 Deptford High Street in Lewisham.  
The brief is to deliver an exemplar shopfront with a public facing programme within the conservation area. 
Pages